Manufacturing Maintenance Solutions promises a highly skilled staff of Field Service Engineers to provide you, our valued customer, with superior service for all your machine tool and industrial manufacturing equipment needs. Our Field Service Engineers quickly diagnose and remedy your machine failures and quality issues. They also source replacement components and repair or fabricate specialty or obsolete components.
MMS Service Department specializes in Electrical / Mechanical Machine Tool Troubleshooting & Repair from the latest, leading edge CNC machines to legacy equipment.
MMS Industrial Machine Repair Services Include:
Ballbar Analysis
The Ballbar is used as a quick, top level check to establish baseline performance on a new machine or to troubleshoot a variety of machine performance issues.
All Ballbar checks will come with a full report of the findings and an explanation of what needs to be corrected based off these findings.

Laser Data Measurement
The laser is used to measure and adjust accuracy for each axis of the machine tool.
All laser checks will come with a full report of before and after findings.
Alignment and Geometric Adjustment
Alignments and geometric adjustments can be made to a machine tool to correct issues that vary from tool changer problems to out of tolerance parts.
Precision Leveling
Precision leveling will help achieve and maintain a more accurate and reliable machine tool.
Machine Backups
Machine backups can be done to eliminate large amounts of downtime if your controller ever fails, or loses data, such as from an unexpected power fault.
Spindle Rebuilds
Spindle rebuilds can be done in house at our facility in a climate-controlled environment to correct performance and tolerance issues with your spindle.
Spindle taper grinding services are offered on any spindle we rebuild.
All spindle rebuilds will come with a full report with recording of before and after measurements.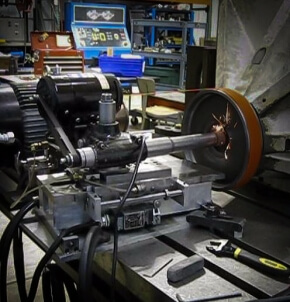 Gearbox Rebuilds
Gearbox rebuilds can be done in our climate-controlled facility to rejuvenate old, worn out gearboxes.
All gearbox rebuilds will come with a full report with record of before and after measurements.
Machine Installations
MMS will utilize all appropriate precision testing equipment to ensure your machine is set up and running at the highest quality possible.
Machine Axis Reconditioning
Ballscrews and Bearings.
Ways or Linear Guides.
Way bearing material and Way scraping.
Rotary axis rebuilds.
Machine Health Assessments
Geometric Accuracy Inspection.
Ballbar analysis.
Oil analysis.
Interferometer laser profile.
Vibration analysis.
Spindle Health Check (drawbar force, runout, taper contact and more).
Electronic monitoring.
Electronic level checks.
Visual inspection.
Operator interviews and machine history.
Thermography study.
Preventative Maintenance
MMS offers writing PM's and PM Schedule as well as performing of PM's on your equipment.